Equestrian sports are known for the partnership between a horse, its rider, and its trainer. The amalgamation of the three stakeholders and staff inputs led to a good day of racing. However, this is not a happy picture of several horses, including a pony from Lancashire. 
America's Favorite Video Today
Several philosophers have called humans the most dangerous beast, for animals react to instincts, while humans act on intentions. The ill intentions of a horse owner had resulted in a tragic case of animal assault. The yearling was later rescued and re-homed at an equestrian facility where it found a new purpose to its life.
Rescued filly helps train youth at equestrian facility
ADVERTISEMENT
Article continues below this ad
Authorities rescued Bramble from its trainer after several people witnessed the pony being beaten in broad daylight. The trainer was attacking the yearling in the middle of the market to "teach her a lesson." Pedestrians caught the criminal assault on camera, and they called the police to arrest the evil horse owner. Later, Bramble found a new home at Queen Mary's Equestrian Center in North Yorkshire. The young pony who suffered a tragic past started to finally live a good life. The equestrian center is a facility used to nurture rescued h horses and to train the youth in society.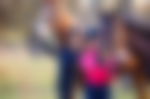 According to Alice Clennan, the manager of Queen Mary's Equestrian Center, Bramble is thriving at its new home. In fact, the students visiting the facility have also fallen in love with the young filly. The British Horsing Society's noble scheme called 'Second Chance' sent Bramble to the center. The scheme has rescued several horses from hellish conditions. They are later employed to teach necessary life skills to the young generation as they work with horses. Clennan said, "Not only does the project support the wellbeing of young people but it aims to give a brighter future to many horses who have suffered an unhappy past by rehoming them." Prior to its rescue, the filly was grossly underweight. In fact, it didn't even have a clean and hygienic space to live in.
113.0k readers Last 30 min
ADVERTISEMENT
Article continues below this ad
The tragic state of Bramble before its rescue
The police investigation of Bramble's previous owner led to several horrifying revelations. The corrupt owner forced the yearling to live in an unhygienic place littered with feces and plastic. It didn't even have a proper space to either sit or stand. The filly's owner subjected her to very harsh treatment and didn't provide her with proper food.
Providing feedback will help us make your experience better.
Enjoyed Your Read? Let us know how likely you are to recommend EssentiallySports to your friends!
ADVERTISEMENT
Article continues below this ad
The substandard feed given to Bramble made it extremely weak. In fact, officers found that its skeletal structure, including ribs, shoulders, and even backbones, was clearly visible. The viral video of Bramble's assault in 2020 brought the case to light, leading to its rescue. While we have the brutal side of humanity on one hand, we also have several loving individuals on the other. Fortunately, the pony is in safe hands now and is making new friends while living its life to the fullest.
WATCH STORY –  Essential Mistakes to Steer Clear of When Riding a Horse for the First Time