WALKER COUNTY, Texas – All evacuation orders have been lifted and roads have reopened as firefighters continue to battle a wildfire in Walker County, officials says.
According to the Texas A&M Forest Service, the Game Preserve Fire, located near Lost Indian Camp Road off FM 247, remains at 4,254 acres and 40% containment on Sunday morning.
FOX 26 Houston is now on the FOX LOCAL app available through Apple TV, Amazon FireTV, Roku and Google Android TV!
The Texas A&M Forest Service says as of 8 a.m., all evacuation orders and road closures have been lifted, but the public should continue to use caution in the area as crews continue to work.
The Texas A&M Forest Service first responded to a request for assistance on the Game Preserve fire on Friday, when the fire was an estimated 100 acres. It grew to an estimated 1,200 acres by Friday night, 3,800 acres by midday Saturday, and 4,254 acres by Saturday night.
Officials first recommended evacuations for everyone within three miles of Lost Indian Camp Road on Friday. On Saturday, Walker County Office of Emergency Management said Cedar Ridge Subdivision, Brimberry Road, and Branded for Christ Church had also been evacuated.
WCOEM said no homes had been lost, and a strike team would stay Saturday night to protect the houses.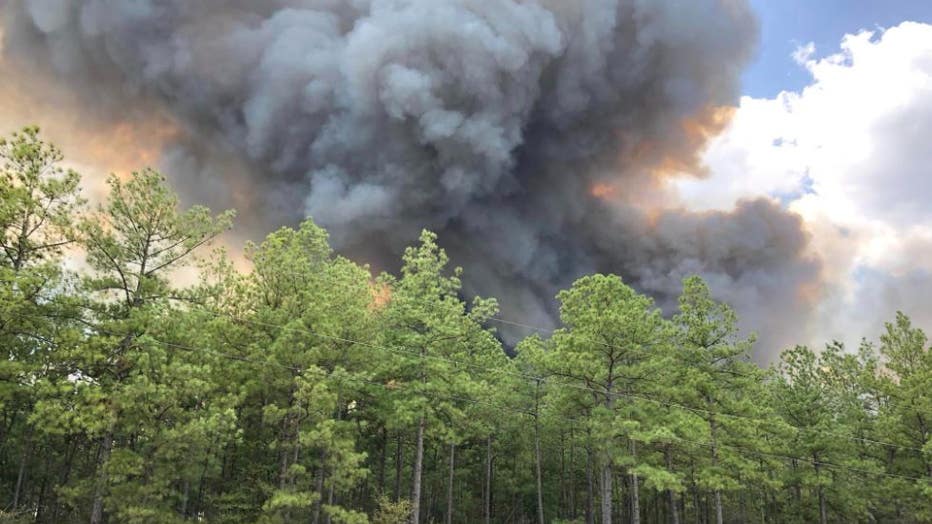 Photo from the scene (Source: Walker County OEM)
On Sunday morning, WCOEM said those who live in evacuated areas could return to their homes, and power was being restored.
Sections of FM 247 and I-45 were also closed at times over Friday and Saturday, but officials say all roadways have now reopened. They advise drivers to be cautious and look for falling trees over the next few weeks.
Firefighters, aerial crews, and dozers have worked around the clock since Friday to contain and suppress the fire. WCOEM said the Florida Forest Service would take over operations on Sunday morning to allow the Texas Forest Service to resume normal operations and have a break.
Officials ask that the public continue to use caution in the area as emergency personnel and vehicles continue to work on suppression efforts.
This is a developing story. We'll keep you up-to-date with the very latest.