Some areas may end up as grasslands as climate change brings droughts. Other forest may recover if allowed to regrow naturally with a host of species, rather than being replanted with commercially preferred firs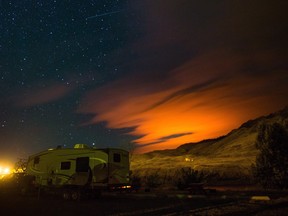 Article content
In the burned-over hills between Ashcroft and Cache Creek, the Secwepemcúl'ecw Restoration and Stewardship Society is getting a glimpse of what the future holds for B.C. forests after a record 2023 wildfire season.
The Society, which represents eight Secwépemc First Nations, was formed in 2017 to advocate Indigenous principles in recovering from the 1,900-square-kilometre Elephant Hill fire of that year. Its researchers are already learning important lessons.
Article content
"It depends on the severity of the fire," said society CEO Angela Kane. "In some area's nothing has come back because (the forest) is burnt so bad."
"What our technicians, my people out on the land are telling me is that it burned so hot and deep into the ground that some of those seed banks are gone."
In places where the fire was less intense, however, deciduous trees like aspen and cottonwood are regenerating naturally along with shrubs and plants that were culturally important to the Secwépemc, demonstrating the importance of those species in re-establishing healthy forests.
Some of the most intense fires in the Elephant Hill complex were in previously logged stands replanted for timber. So, "we are seeing the impacts of (not) having a naturally balanced forest," Kane said.
Elephant Hill is one place where forest researchers are learning lessons from the record 2017 and 2018 fire years, which scorched a combined almost 26,000 square kilometres of land, an area 80 per cent the size of Vancouver Island.
They also point to a potential future following 2023 fires such as McDougall Creek near Kelowna, Bush Creek East in the Shuswap Lake area and the massive Donnie Creek complex in northeast B.C.
Article content
The prevalence of wildfires are partly a consequence of the hotter and drier forests due to climate change and partly the legacy of more than a century worth of forest management that prioritized timber production along with the suppression of fire to preserve that timber.
"We're learning the hard way (about) unintended consequences," said wildfire ecologist Lori Daniels. "Some of those practices, although they seemed like they were going to be economically beneficial to us between 1950 and 1990, they're catching up with us now."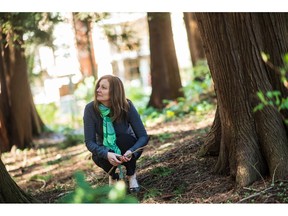 Daniels, a professor in the UBC department of forests and conservation science, added that the costs include lost timber for the forest industry, less reliable drinking water in burned-over watersheds as hillsides become more prone to erosion, and harm to human health "from breathing smoke all summer."
Researchers are learning other dire lessons related to climate change in the burned forests on the Chilcotin forest west of Williams Lake and Quesnel, according to Daniels.
Large areas of forests replanted after 2017 fires for timber, with lodgepole pine and fir seedlings, were simply scorched out again by drought during the 2021 summer heat dome.
Article content
"Even some of the naturally regenerating conifers," Daniels said. "Those seedlings died. They did not make it through the heat dome. They were too young, it (was) too hot, the soil moisture was far too dry, they simply desiccated."
In some cases, those formerly forested landscapes will be better off left to become grasslands because that will make them more resilient to climate change, as droughts are expected to become more common, Daniels said.
However, researchers are learning more hopeful lessons in a patch of UBC's research forest near Williams Lake where the land was left to let nature take its course after a small fire in 2013.
Researchers put observation plots into the burn area right away and left it alone to "just see what the ecosystem does if we let it do its thing," Daniels said.
Data hasn't been finalized from the most recent observation, but researchers have observed healthy growth of three-metre-high aspen and birch trees with a mix of healthy, naturally regenerated, metre-high lodgepole pine and Douglas fir seedlings growing happily in the shade of their deciduous cousins.
Article content
"It's just a small patch," Daniels said. "So it's not quite comparable to those big fires out on the (Chilcotin) plateau, but the lesson after 10 years, they're really happy to grow, even though there's supposedly all this competition from the broadleaf trees immediately around them."
That challenges Ministry of Forests dogma on reforestation, which prioritizes planting conifer species for their timber value and weeds out species such as aspen, alder and birch by spraying with glyphosate herbicides.
However, the ministry says its practices and standards are shifting in light of what is being learned and its forest-landscape planning now gives priority to the health of forest ecosystems.
The ministry did not provide an expert to be interviewed, but in an unattributed email response to Postmedia questions, said its landscape plans will establish "clear objectives for developing long-term adaptable approaches to managing old growth, biodiversity and wildfire risk in a changing climate."
Plans will rely on local knowledge and be co-developed by First Nations, the statement said.
Article content
The statement said forestry companies are legally required to reforest logged areas to "legally binding stocking standards," set out in their own forest stewardship plans, and since 2017, the province has planted 1.6 billion trees.
Reforestation programs can be important for regenerating forest health following wildfires, especially in forest types that are slow to regenerate naturally, the statement said.
The province and timber companies have replanted about 2,600 square kilometres of forests that were burned in 2017 and 2018 with some of the reforestation "negatively affected by drought, the heat dome and insect pests," the statement said.
"Overall, they are meeting regeneration targets set for planting," the statement said. "However, some of our most drought-prone areas are unlikely to have replanting success and it is expected that some of these lands will eventually revert to grassland."
In Secwépemc territory, the areas at most risk of that are low elevation, formerly dry Douglas fir and ponderosa pine forests, said researcher Sarah Dickson-Hoyle.
Article content
"We're seeing some sites with no natural regeneration at all," said Dickson-Hoyle, a post-doctoral fellow in the UBC department of forestry and conservation science who works with the Secwepemcúl'ecw Restoration and Stewardship Society.
However, Dickson-Hoyle said researchers have observed that areas that burned with less intensity are regenerating a greater diversity of understorey plants, wildflowers, berry bushes and other shrubs, than replanted forest areas.
They are plants often overlooked when "looking up in these forests," but are the plants that Indigenous Peoples harvest for food and are critical for wildlife and biodiversity.
"That really speaks to the critical potential for both prescribed fire and also Indigenous cultural fire in restoring a lot of the landscapes around these areas that have had fire taken out of them over the past 80 years," Dickson-Hoyle said.
The story of recovery and climate adaptation will be very different across the range of geo-climatic zones in B.C. — coastal temperate rainforests, dry forests of the Interior and boreal forests of B.C.'s far northeast.
Article content
"We're moving into unprecedented conditions in the B.C. context, so there are a lot of efforts to study change to date and model or predict future ecosystems," said UBC forest biologist Sally Aitken. "But there's a great deal of uncertainty, because things are changing into conditions we haven't seen here before."
The Donnie Creek Fire, north of Fort St. John, is the biggest wildfire recorded in B.C. at 5,800 square kilometres as of Aug. 28.
Boreal forests are characterized by deep, peat-bog soils, so the Donnie Creek Fire could smoulder underground during the winters, and could come back again next spring.
Fire ecologist Robert Gray has said some of the forest stands in the Donnie Creek fire's area were replanted not that long ago. So replanting them, under climate conditions that are going to become warmer and drier, might only set them up to burn again.
"So it may be on a trajectory where you just don't get a closed forest again," said Gray, a fire ecologist and independent consultant.
UBC ecologist Daniels said high-intensity fires that burn into the boreal forest's highly organic peat soils will create "major ecological changes that will take decades to centuries for the ecosystems to recover."
Article content
"The way you build an ecosystem is soil first, then the plants, then the trees on top," Daniels said. "We're having to start with new soil, because we've burned it off."
depenner@postmedia.com
B.C.'s southern neighbours have wildfire risk reduction plans; B.C. doesn't

Two key fires in Okanagan are under control, but winds pose challenge to north

How wildfire in British Columbia's Shuswap is fanning political flames
---
Summer subscription sale: Our in-depth journalism is possible thanks to the support of our subscribers. For a limited time, you can get full online access to the Vancouver Sun and The Province, along with the National Post and 13 other Canadian news sites, for just $40 for one year or $1 a week for 52 weeks. Support our journalism by subscribing today: The Vancouver Sun | The Province.