DUNWOODY, Ga. – Police K9 handlers are learning some crucial skills that could save the life of their dogs. They're learning K9 emergency medical training, so they know what to do if their partners get hurt.
From stopping the bleed, to proper use of Narcan, to heat related illnesses. K9 officers from several different agencies gathered in Dunwoody to learn how to medically treat their partners in an emergency.
"We want them to have the skills, so they can treat them in the field for some type of gunshot wound, stab wound, get the bleeding stop and get them to a veterinarian, so they can get proper care," said Jenn Parks with Spikes K9 Fund.
Dunwoody Police Officer Eric Drum works closely with his K9, Hank, every day.
"Hank is a 4-year-old Belgian Malinois. He does narcotics, tracking and evidence location," said Officer Drum.
Officer Drum says he and his partner often go into dangerous situations.
"We don't know what we're running into, and we have to be prepared for everything," said Officer Drum.
They're a team, and Officer Drum says he'd do anything to save Hank's life.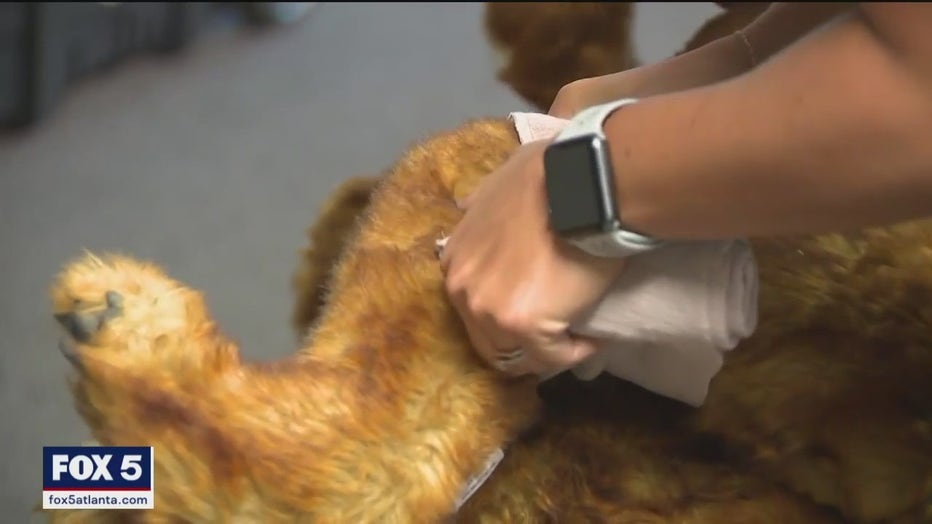 "He's like my child, so I'm going to help him before me and everything I can do to save h, I'm going to do it," said Officer Drum.
The free training is offered by a national non-profit called Spikes K9 Fund. The founder, James Hatch, was a Navy SEAL wounded in combat. He says a dog saved his life, and now he has dedicated his life to helping work dogs.
In addition to emergency medical training, the organization also provides ballistic vests and essential training gear, as well as helps with some medical costs. The organization also helps train Search and Rescue dogs and Military K9s.
"Since we began in 2015, we've helped 2,300 dogs across the country," said Parks.